Zhalanashkol 1969
Page last edited 1,058 days 15 hours ago
From GraviTac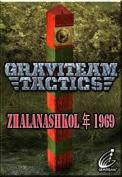 Zhalanashkol 1969 is an addon for Graviteam Tactics: Operation Star, which adds a new area of operations - an area near lake Zhalanashkol on the Soviet-Chinese border, and two new operations showing the realistic version of the events for USSR border guards and People's Liberation Army, and also an operation showing Chinese version of the events for the PLA.
The "reasonable" Chinese version is a mirror of the realistic version with slightly modified briefings - relatively sober Chinese view of the events.
The "official" Chinese version is based on translation of Chinese sources, sometimes the author's fantasy prevails over common sense.
All versions are about the same events. The views of events are given from both sides specifically so you can compare them and draw your own conclusions.
External links
[
edit
]